Inturotel
The 7 best markets in Mallorca
December 14, 2022
Reading time: 07:56 minutes
Have you visited any of the best markets in Mallorca? Don't miss our guide that gives you an option for every day of the week and helps you to discover beautiful villages and corners of our island.
Mallorca is not just a paradisical island to visit and enjoy the beautiful beaches and crystal-clear waters. It is also a place full of ancient traditions that are still alive in much of the region. So, in this post we are showing you 7 of the best markets in Mallorca, one for each day of the week.
With its many villages and small towns Mallorca offers you the chance to visit different markets that take place in most of the island's districts and which sell all kinds of products.
Each village is famous for selling certain products and knowing what you'll find at each market will help you decide which ones you want to visit.  
Monday: Manacor Market
Manacor is Mallorca's best-known town because it is the birthplace of the tennis player Rafa Nadal. But before being famous for its connection to the sportsman, Manacor was renowned for its pearl factories and the Drach and Hams Caves that are located close by.
Manacor market is held every Monday from 8am to 1.30pm. It mainly sells textiles, leather goods and crafts. It takes place near the church of Mare de Déu dels Dolors, meaning Our Lady of Sorrows and worth a visit as it is about to become a cathedral, and along the town's central streets.
On the stalls you'll find a huge variety of leather goods for sale, such as bags, belts, wallets, jackets and footwear. There are also stalls selling different textile products including wonderful items made using tela de llengües, a traditional Mallorcan ikat fabric.
There are also stalls selling fruit and vegetables, as well as gourmet products such as cheeses, charcuterie, nuts, tinned produce, spices, Mahon cheese, sobrasada and olives from the island.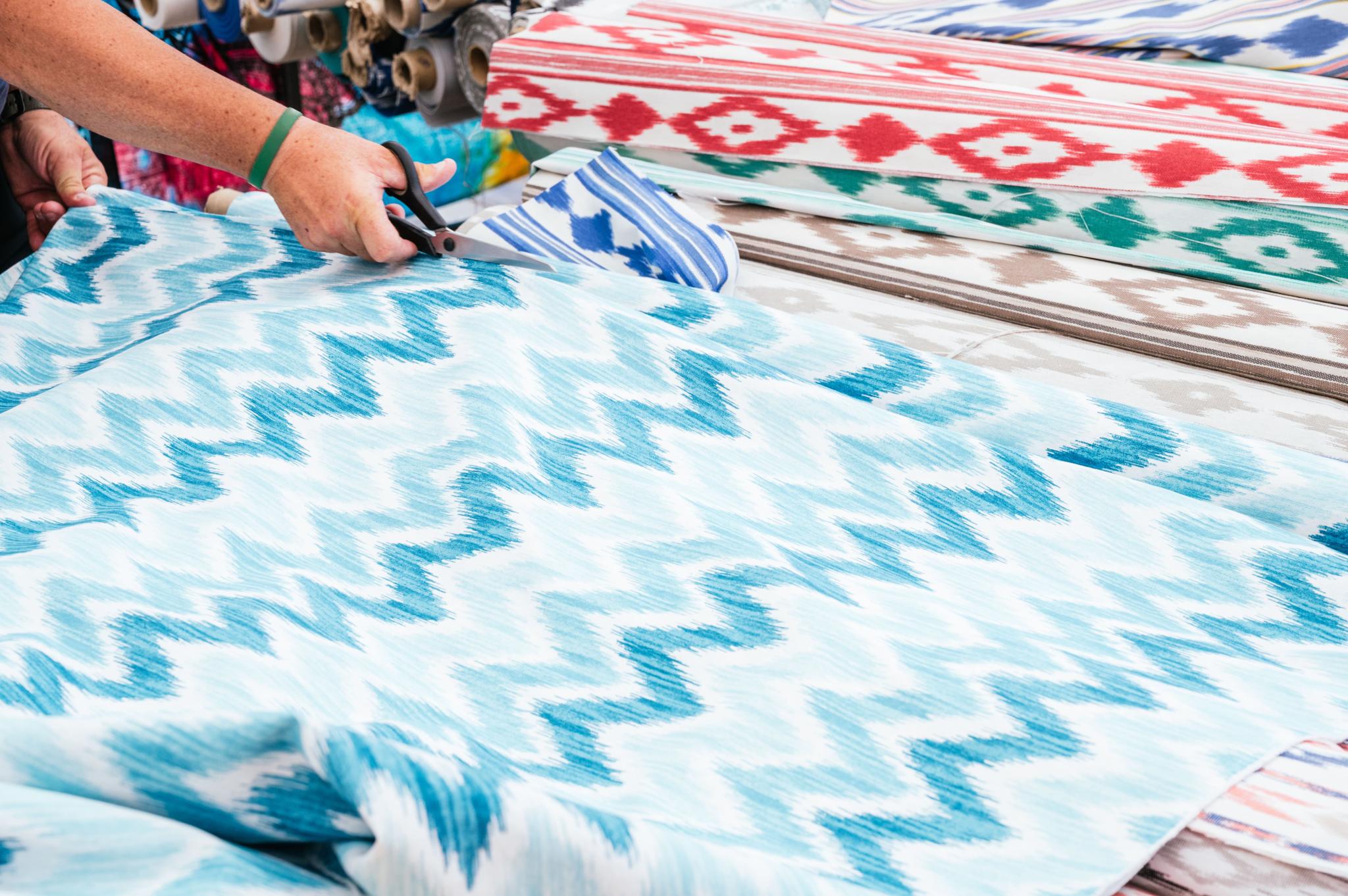 Tuesday: Artà Market
In the northeast is Artà, one of the island's most beautiful and traditional villages. Famous for its coves and the surrounding natural landscape, its weekly market is held every Tuesday from 9am to 2pm.   
It takes place in the centre of the village and attracts thousands of visitors. A huge variety of culinary produce is on sale, such as fruit, vegetables and traditional artisan foods from the island.
You can also purchase Mallorcan handicrafts, such as wood products, decorative accessories and ceramics, as well as high quality footwear made by well-known companies from the Balearic Islands.
At Artà market make sure you don't miss the Moyà sweet herb liqueur made with aniseed and various Mallorcan herbs and savoury ARTÀsanes biscuits. We recommend you don't leave the village without trying both or taking some with you to sample at home.
Wednesday: Sineu Market
Heading into the heart of Mallorca, we come to a village that holds its market every Wednesday from 8am to 1.30pm. Sineu market is the only weekly market with farm animals and is one of the island's oldest and most rural and traditional. It has been going since the beginning of the fourteenth century!
At Sineu market there are thousands of people wandering through Es Fossar square, Es Mercadal square and the streets of the old quarter, browsing the huge variety of stalls that make up the market.
It is one of Mallorca's oldest and most visited markets and sells different types of products including fruit and vegetables, local artisan produce, as well as plants, fruit trees and flowers.  
You can purchase agricultural tools, textile items, leather goods and footwear. You can also see the different farm animals on display, interact with them and have your photo taken with them.
If you visit Sineu don't leave without visiting the cloister of the Jesús María de Sant Francesc convent of Sineu. You will love it.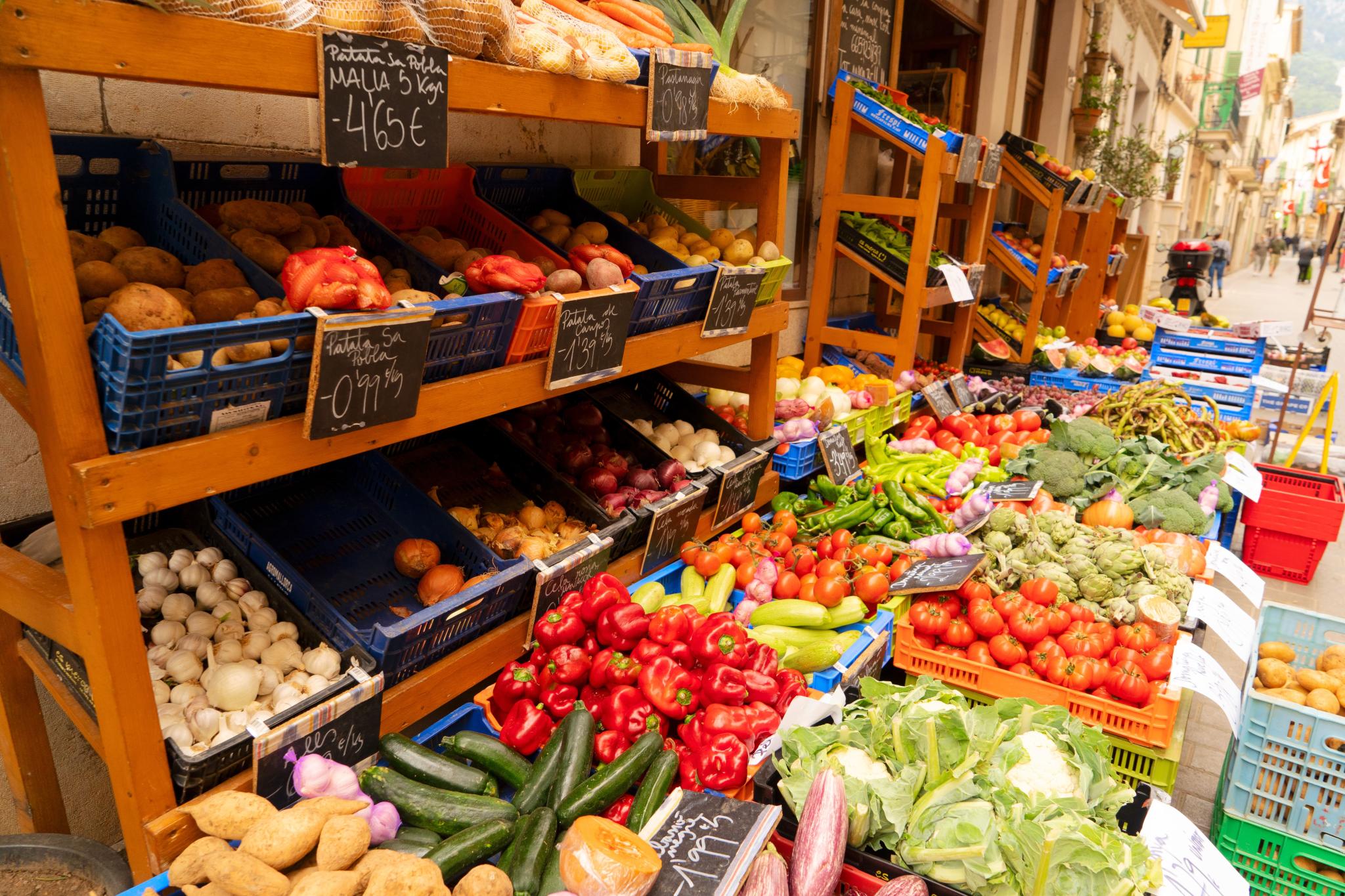 Thursday: Inca Market
The famous town of Inca is one of Mallorca's largest. Its market is held on Thursdays from 8am to 1.30pm and is one of the island's biggest, oldest and most famous markets.
Once a year "Dijous bo" or "Good Thursday" is held, coinciding with market day. It is one of Mallorca's most famous local festivals.
Every Thursday you can enjoy the weekly market that takes place along the town's main streets, and which is easily reachable by train. The market, with its a friendly, welcoming atmosphere, offers a wide variety of local Mallorcan products, as well as plants, flowers and handicrafts to take home.
The wide range of products also includes seasonal fruit and vegetables, nuts, sweets, artisan food produce such as cheese, olive oil and wine, plants, fruit trees and flowers.
Inca is famous for its savoury biscuits known as "quelitas" and it's worth heading to the Quely factory to discover all the products they make. Also not to be missed is a visit to the Forn de Sant Francesc, where the aroma of the traditional Mallorcan desserts will make you want to try everything. We recommend the ensaimadas and the chocolate doblegats!
Friday: Llucmajor Market
Llucmajor market is one of the largest in Mallorca and you'll find endless paradetes, or stalls, selling all manner of products including clothes and accessories, artisan produce, gifts and home décor.
It is held every Friday from 9am to 2pm in the town centre and stretches from Passeig Jaume III to Plaza España in the heart of the town. It's very popular and attracts people from all over the island.   
One of the special attractions of this market is the flea market where you'll find all sorts of treasures, including antiques, decoration, furniture, books and even art.
If you go to Llucmajor you must try Mallorcan "frit", a traditional dish from the island that Llucmajor specialises in.   
Saturday: Santanyí Market
Visitors from every corner of Mallorca head to Santanyí, one of villages with the best beaches in the world and with the added attraction of its Saturday market where you can start the weekend on a good note. Especially if you stay at Inturotel!
Every Saturday from 9am to 2pm you can wander through the village where this famous market is located with stalls offering food, handicrafts and high-quality textiles.
Walking around Santanyí is very pleasant because of its pedestrianised streets, and you can enjoy wandering around the beautifully preserved old buildings and the ancient gate of the walls known as Porta Murada.
After your walk we recommend heading to one of the village's bars or restaurants to enjoy some traditional Mallorcan fare.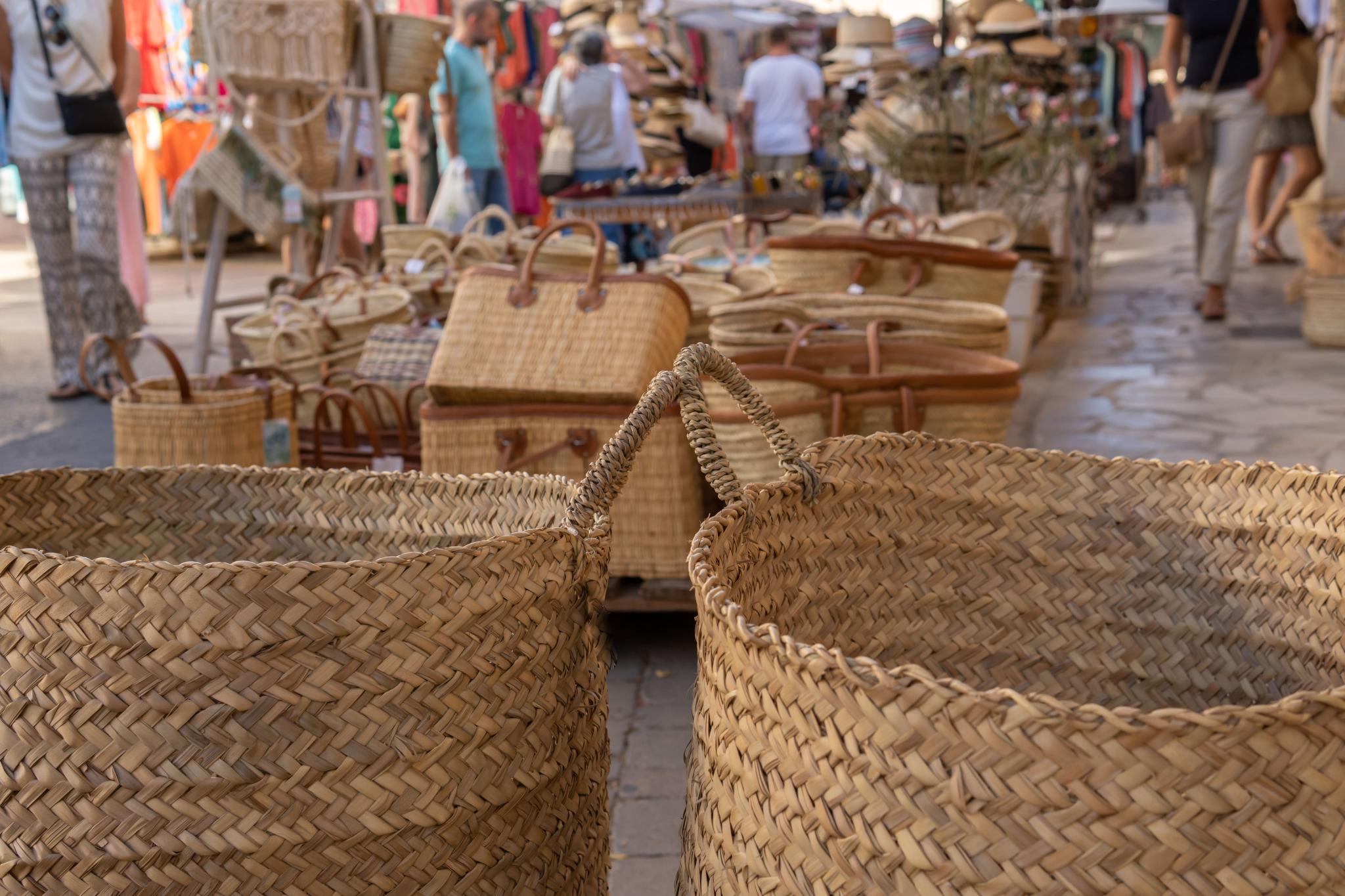 Sunday: Felanitx Market
To complete this week-long route of the 7 best markets in Mallorca we can head to Felanitx, a village located close to Cala d'Or where you can start your Sunday by enjoying a wander around its market.  
Because the market is held on a Sunday it attracts a lot of visitors, so we recommend getting there as early as possible, so you don't have problems parking and so it's not too hot, especially in the summer months.
Felanitx market takes place every Sunday from 9am to 2pm and sells food, meat, fish, wine, cheese, fruit and vegetables. There is also a covered area in the Rei Jaume II square where local Mallorcan produce is on sale every day.
The market gets increasingly popular every year with more and more stalls being added for us to enjoy so don't miss out! 
If you go to Felanitx make sure you head up to the Sant Salvador sanctuary located on hill that is 509 m high. For those who like interesting facts, it was built during the Black Death because it was believed that its altitude would mean that the disease would not reach it.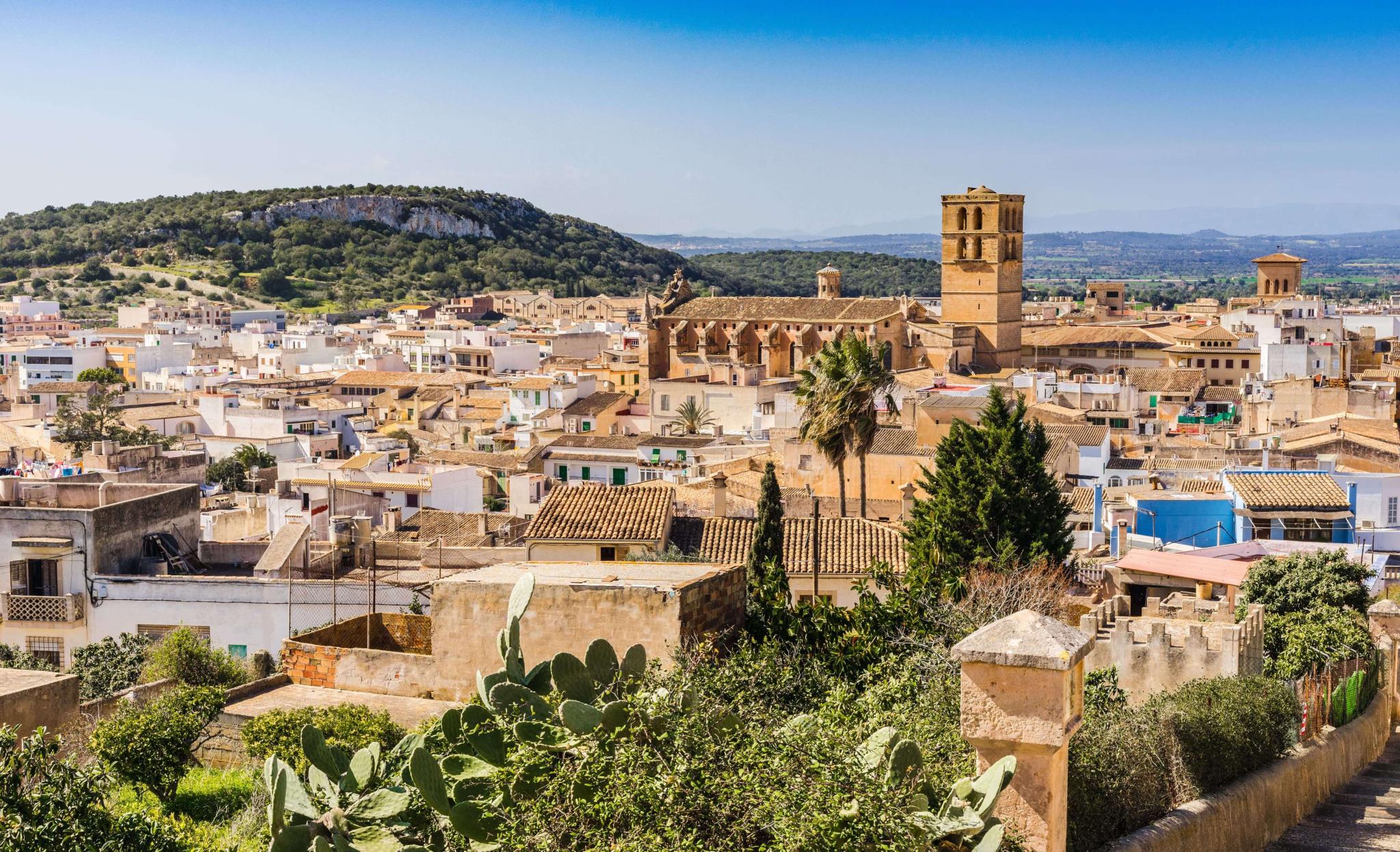 Have you decided which route around Mallorca's markets you are going to take? From Inturotel Hotels & Resort, we invite you to discover the most authentic and traditional side of our island and to enjoy it with us.
We will wait for you!
Inturotel Hotels & Resort