Fun & Sun
Mondragó natural park
June 10, 2022
Reading time: 07:15 minutes
Mondragó Nature Reserve is one of the island of Mallorca's finest natural treasures. It combines a wide variety of scenery with idyllic beaches of white sand bathed by turquoise waters and a diversity of flora and fauna. 
In 1992, it was declared a nature reserve after calls by society to prevent its development. It has also been declared a Natural Area of Special Interest  (ANEI according to its Spanish acronym) and it is included in the Red Natura 2000 network, given its importance as a Special Protection Area for Birdlife (ZEPA) and a Site of Community Interest  (LIC).
Located in the municipality of Santanyí, on the south-coast of the island, it covers an area of over 700 hectares, 95 of which are publicly owned. 
The nature reserve can be very easily reached from any of our Cala d'Or hotels and it is just 7 km away. We suggest that you travel there by bicycle or on foot rather than by car so that you can fully appreciate the trip past  Cala Llonga, Portopetro and its charming bay, and other rural areas. In the summer months, you can also take a no. 521 bus from the bus-stop just a few metres from your hotel.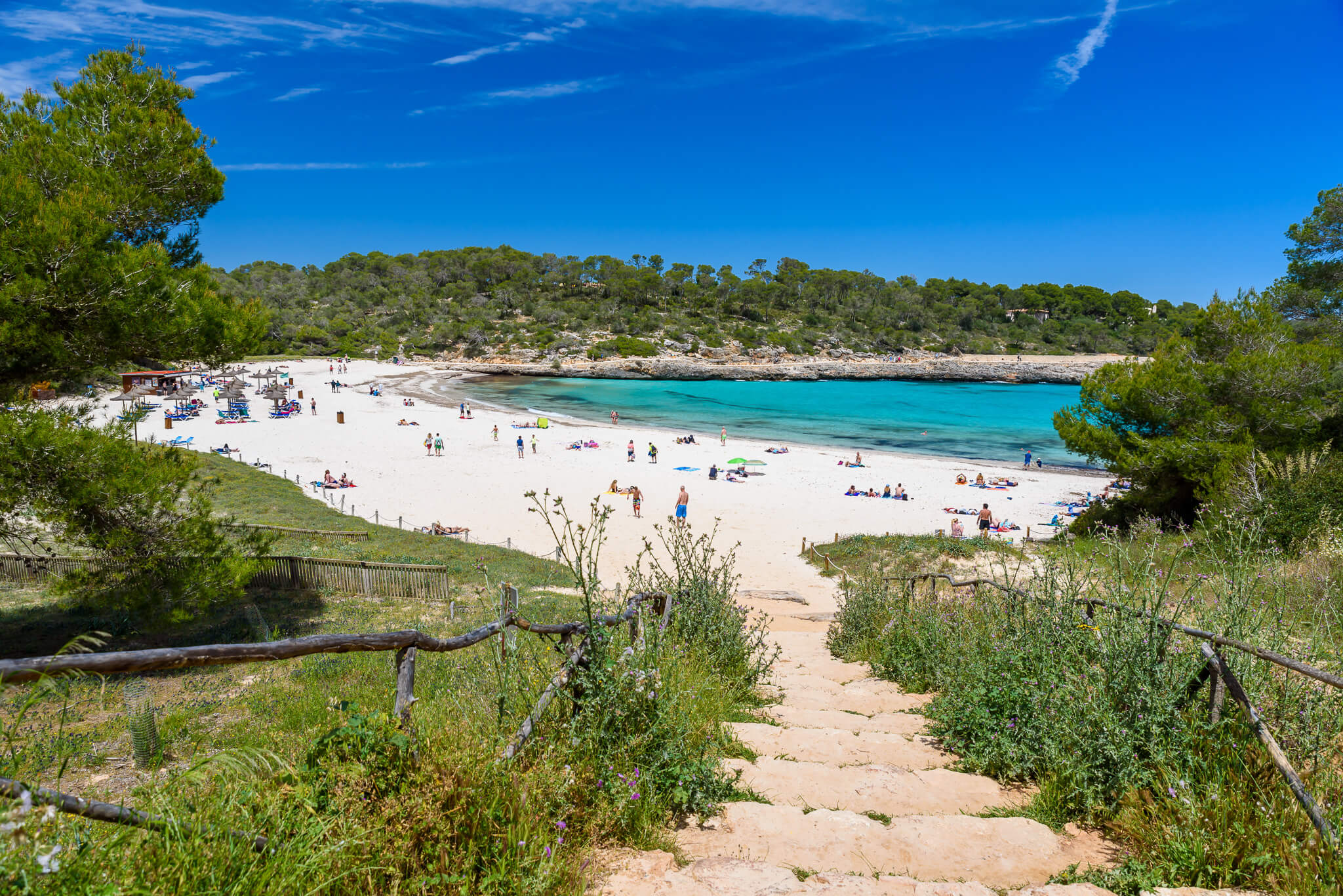 What to do at Mondragó Nature Reserve
Mondragó Nature Reserve can be visited on foot or by bicycle. There is an information point at the entrance, with visitor information and details of places of interest and hiking and bike routes. They are short, easy routes that can even be done with children.
On these routes, you can enjoy a trip into the countryside or around the little lagoon and breath-taking coastline.
The nature reserve's landscape has been defined by centuries of farming and livestock activities, and it stands out for its multitude of dry-stone walls and barraques de roter (stone shelters used as accommodation for people and animals or for storing farm equipment), with either beamed or conical roofs.  
You can also come across sitges (stone bases for charcoal furnaces), charcoal makers' huts, lime kilns, and other features like boathouses, sandstone quarries, small defensive buildings and smugglers' hiding places.
The flora
As the singer-songwriter Raimon sang, "la genista florece y en el campo hay rojo de amapolas..." (the broom is in flower and the countryside is dotted with a red mantle of poppies...). In spring, the nature reserve is at its most splendid, thanks to the wide variety of flowers that bedeck the countryside, with orchids, poppies, daisies and brambles and flowering shrubs, such as  grey-leaved cistus bushes (Cistus albidus), Mallorcan brooms (Genista lucida), and rosemary plants (Salvia rosmarinus), in addition to flowering trees like common tamarisks. Buzzing around these plants are a multitude of insects that play an essential role as pollinisers in bringing natural cycles full circle. At the nature reserve, lots of environmental awareness raising workshops are organized, one within the framework of the EU www.life4polinators.com programme, which we recommend you to take part in.
On the seabed of the nature reserve, meadows of Neptune grass (Posidonia oceanica) guarantee the transparency of the waters, nourishing and acting as a shelter for a multitude of different species. The Balearic Islands are one of the Mediterranean sanctuaries where this underwater plant is in the best state of conservation and counts on the most protection. According to a publication by Greenpeace, Neptune grass has 7 outstanding characteristics. Here are just a few of them:  
1) It is the oldest living organism on the planet, living up to 1,000,000 years old.
2) Meadows of Neptune grass are a breeding ground and refuge for fish, crustaceans and molluscs, fostering biodiversity.  
3) Neptune grass protects beaches and helps to prevent coastal erosion.  
4) Neptune grass contributes to the formation of beaches of white sand.
5) Neptune grass helps to combat climate change and acts as a lung for the Mediterranean.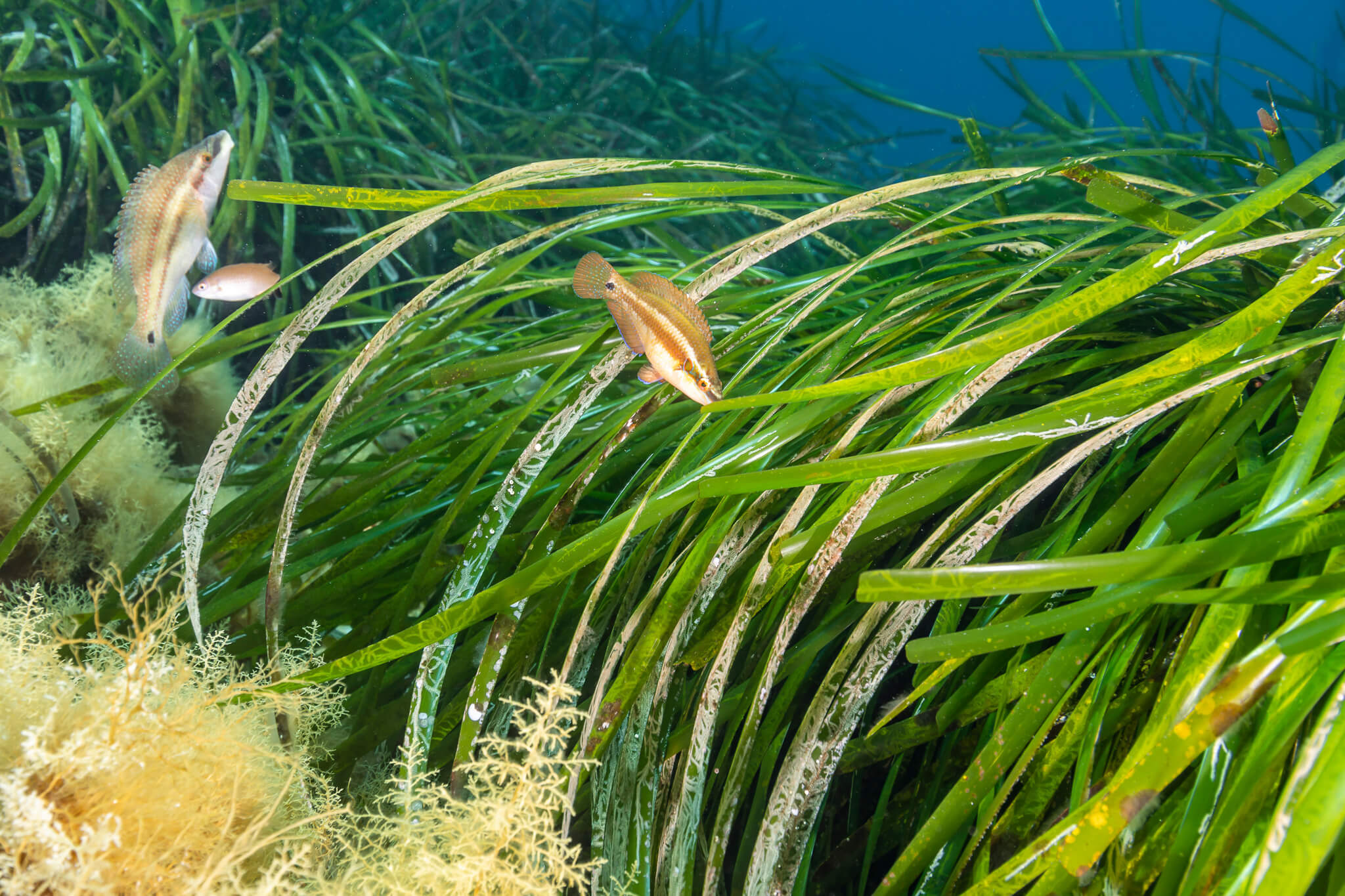 The fauna
Mondragó Nature Reserve has been declared a Special Protection Area for Birdlife. Amateur birdwatchers can enjoy splendid sightings of birds in unique natural surroundings. This is why visitors are advised to keep the noise down and to take binoculars with them.
Some of the birds that can usually be seen in the nature reserve's skies include common swifts (Apus apus), turtle doves (Streptopelia), Eurasian hoopoes (Upupa epops) and cormorants (Phalacrocoracidae). In places with stagnant water, Eurasian coots (Fulica atra) and common moorhens (Gallinula chloropus) can be found.
Other species that can be sighted include examples of Eleanora's falcon (Falco eleonorae), blue rock thrushes (Monticola solitarius), and Balearic shearwaters (Puffinus mauretanicus) close to the coast, as well as red-legged partridges (Alectoris rufa), European goldfinches (Carduelis carduelis), and red kites (Milvus milvus) in the countryside.  Harder birds to sight include European bee-eaters (Merops apiaster) and common kingfishers (Alcedo atthis). (You might see them as you paddle surf at quieter times).  
Some other animals that you might come across include tortoises, hedgehogs, pine martens and hares. Please do not disturb them and never try to touch them.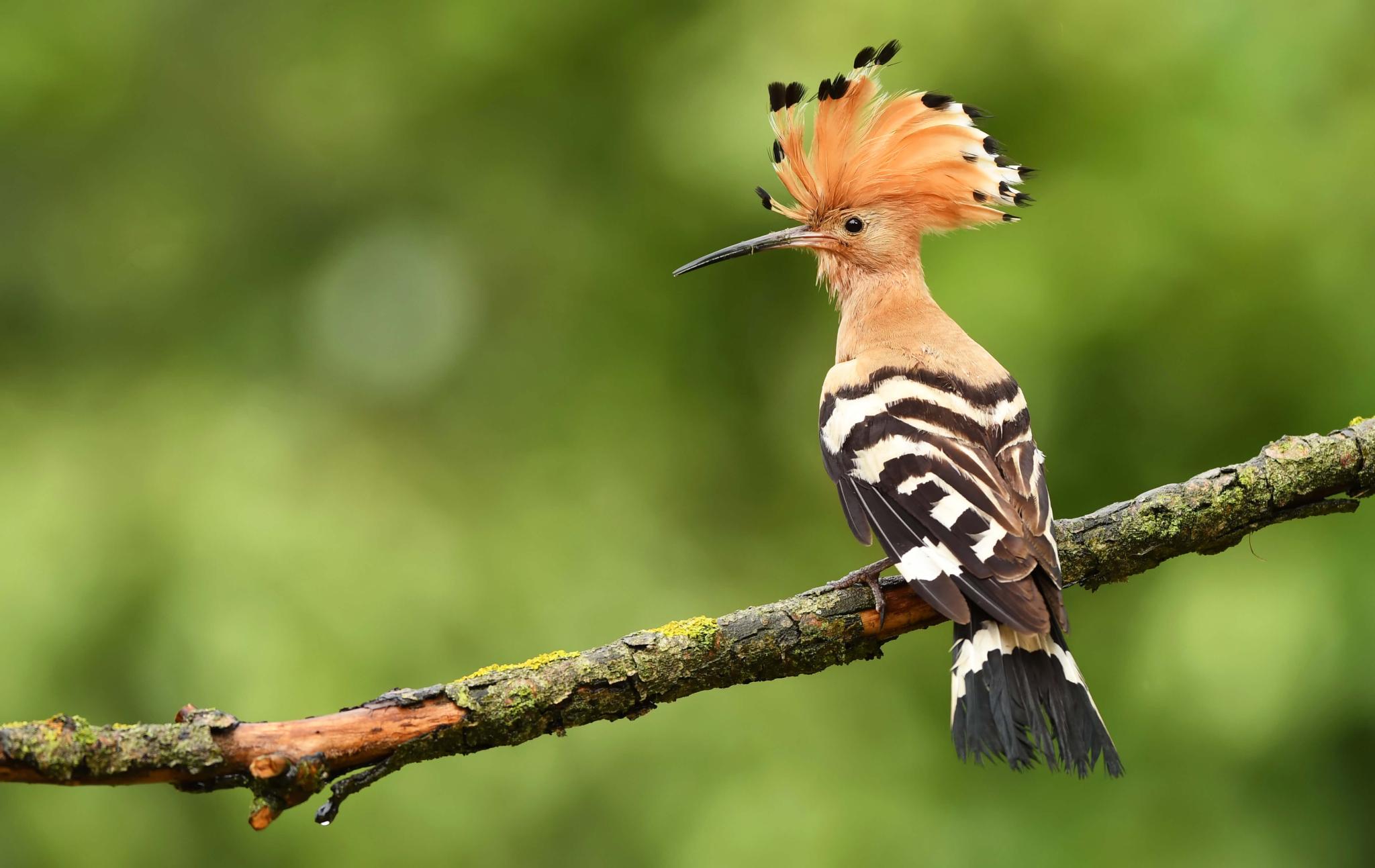 Mondragó Nature Reserve's coves
Although it is not an on-land and maritime nature reserve like the Cabrera Archipelago (which we also suggest you visit: see our post about Cabrera, 'A day in Paradise' 31/05/2021), its entire length does run alongside the sea.
The nature reserve contains several coves, three in particular that are worthy of mention: Cala Mondragó, S'Amarador and Es Borgit, with crystal-clear waters and a superb natural backdrop. With their white sanded beaches and waters filled with life, they are idyllic places to enjoy the peace and tranquillity that nature offers.
Cala Mondragó, also known as Caló de sa Font de n'Alis, is the closest to the nature reserve's information centre and the easiest to reach. It is perfect for families, thanks to its easy access and the availability of a restaurant. It is considered to be one of Mallorca's top 20 beaches and although it can be a bit busy in the summer months, we are sure that you will fall in love with its turquoise waters.  
S'Amarador is a lovely, totally unspoilt beach with fine sands and vegetation made up of a dune system that is currently being renewed. It also has a pond fed by water from a torrent that leads into this cove, where tortoises bear their young. The name   S'Amarador refers to a former use that was given to ponds, when bundles of flax or hemp were submerged in them for a time to obtain plant fibre or trunks of wood were soaked in the water until they were resistant enough to build boats or to use as beams in houses.
The cove is just 400 metres from Cala Mondragó and it can be reached on foot by walking along the coast.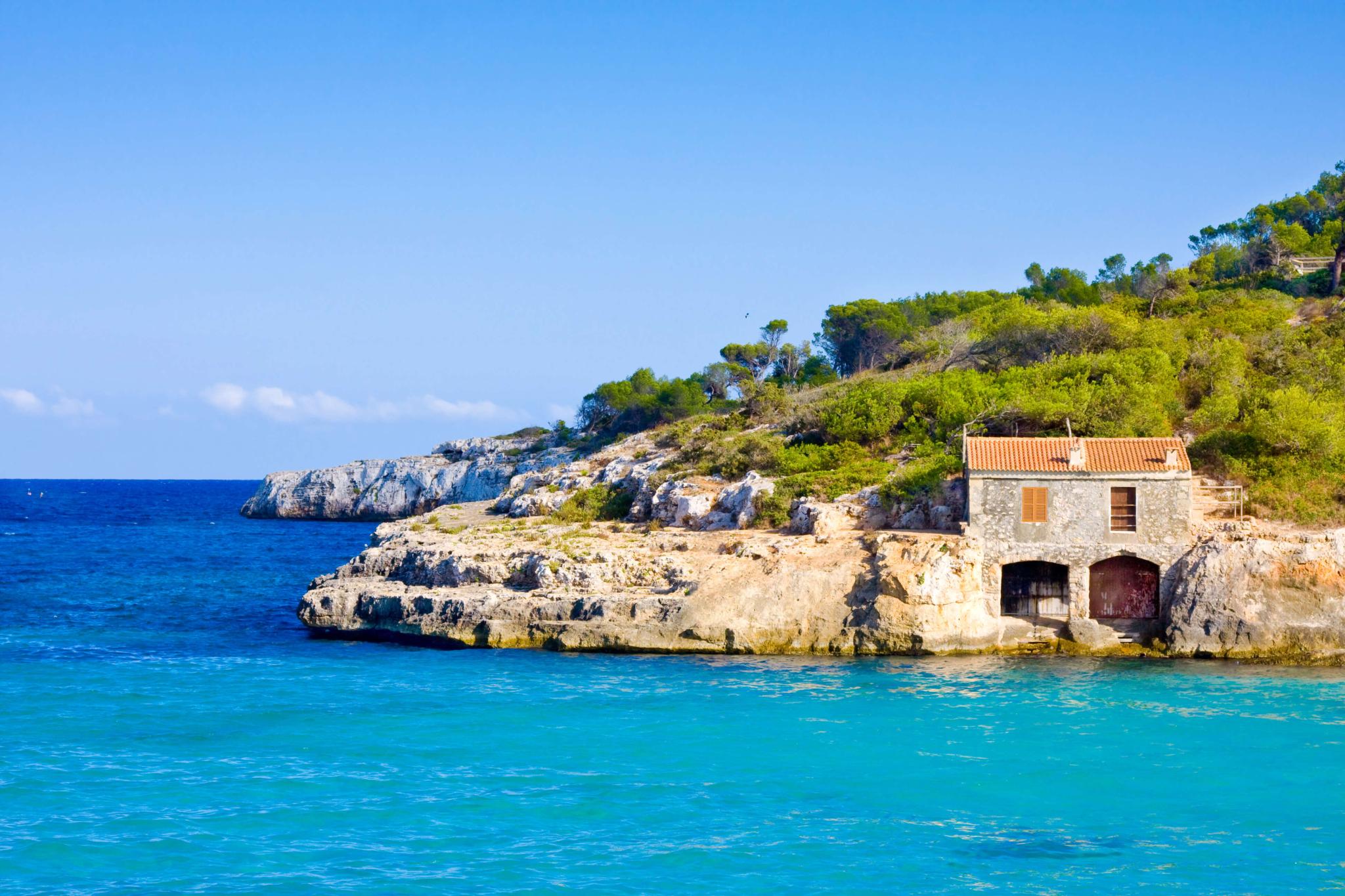 Caló des Borgit –the smallest, quietest cove– is a bit more complicated to reach, but this is the one for you if you are looking for peace and quiet and fewer people.  It is a small cove with a V-shaped inlet, a leafy pine grove and fine sands, lending it a particularly unspoilt charm. It is also surrounded by low cliffs, with a restful, soothing air thanks to its distance from the local tourist resorts. It is easy to reach by road, following the signs to the cove. When you reach a sort of car park, park your vehicle and continue on foot for the last 300 metres.
If you wish to spend a few days away from the madding crowd, surrounded by nature, this is the place for you.
Inturotel invites you to discover this Paradise. We're sure you'll love it!