Inturotel
Lieke Van der Vorst
March 22, 2023
Reading time: 08:57 minutes
We are delighted to be able to share with you the interview that we did with one of our favourite illustrators, Lieke Van der Vorst. Last summer she and her young family spent a few days with us, staying at Inturotel Cala Azul to find inspiration for the illustration we had commissioned from her.
We are thrilled with the result of this collaboration and we think it depicts the natural landscape around our hotels in a very original way. We hope you get as much pleasure from her illustrations as we do.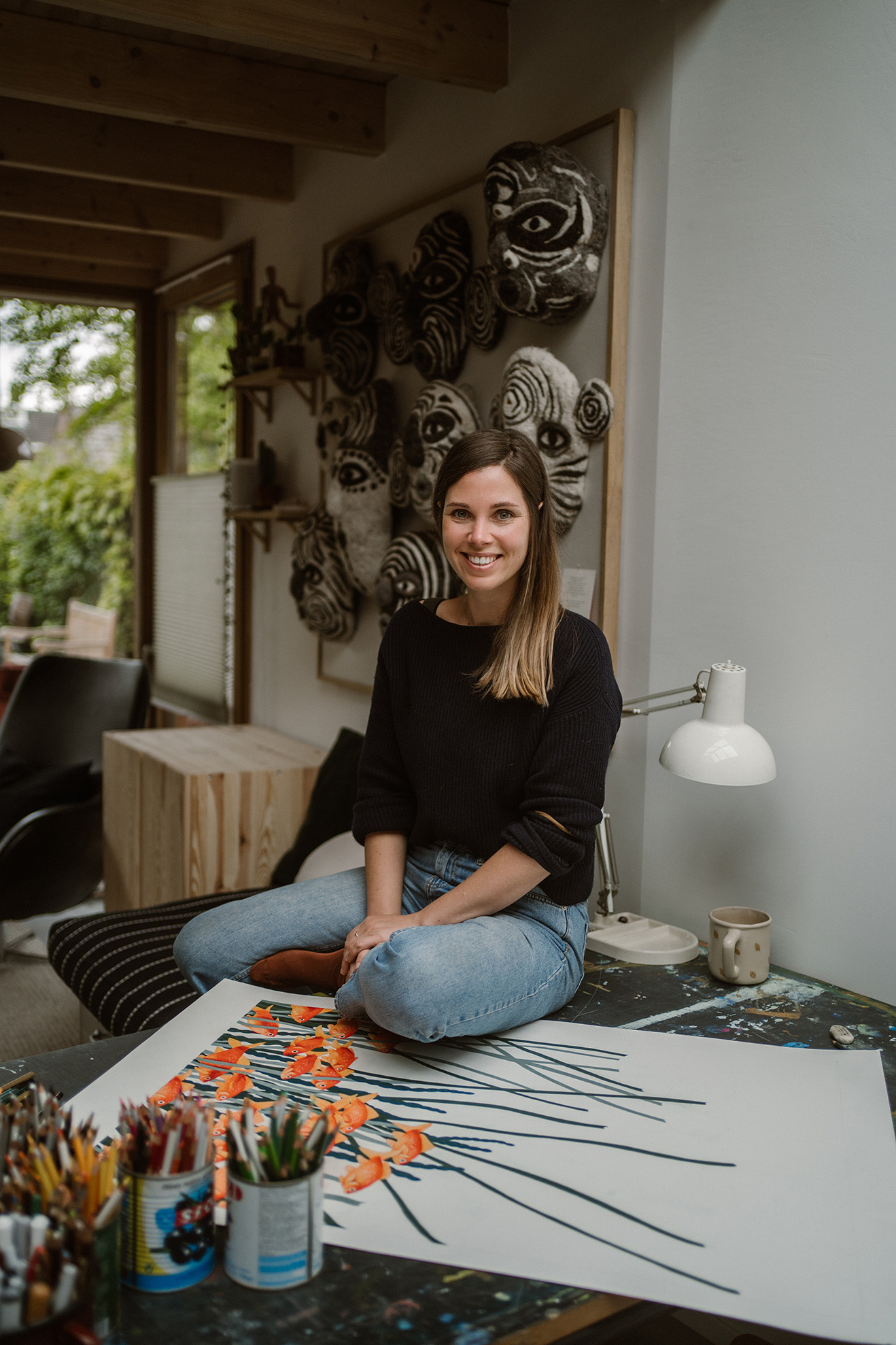 Lieke van der Vorst is the illustrator behind Liekeland. She illustrates mostly with materials like colored pencil, pens and lately she's experimenting with oil paint.

Lieke grew up in Kaatsheuvel, a small town in The Netherlands. Every Summer her parents would pack up their De Waard tent and would drive 13 hours to the Provence of France to camp among the lavender fields. It was these times in nature that have influenced her life and work. Being kind to animals and the environment became an important part of her vision. Currently she lives in her hometown Eindhoven, where Koen and Lieke renovated a 123-year-old house and added a wooden extension with lots of light. In her studio she makes illustrations for her own products as well as for other clients.

Nature is a recurring theme in her work, capturing a sense of positivity while still addressing serious issues. Lieke tries use her illustrations to make a positive impact on the world and to inspire others and herself to be more aware of the little things.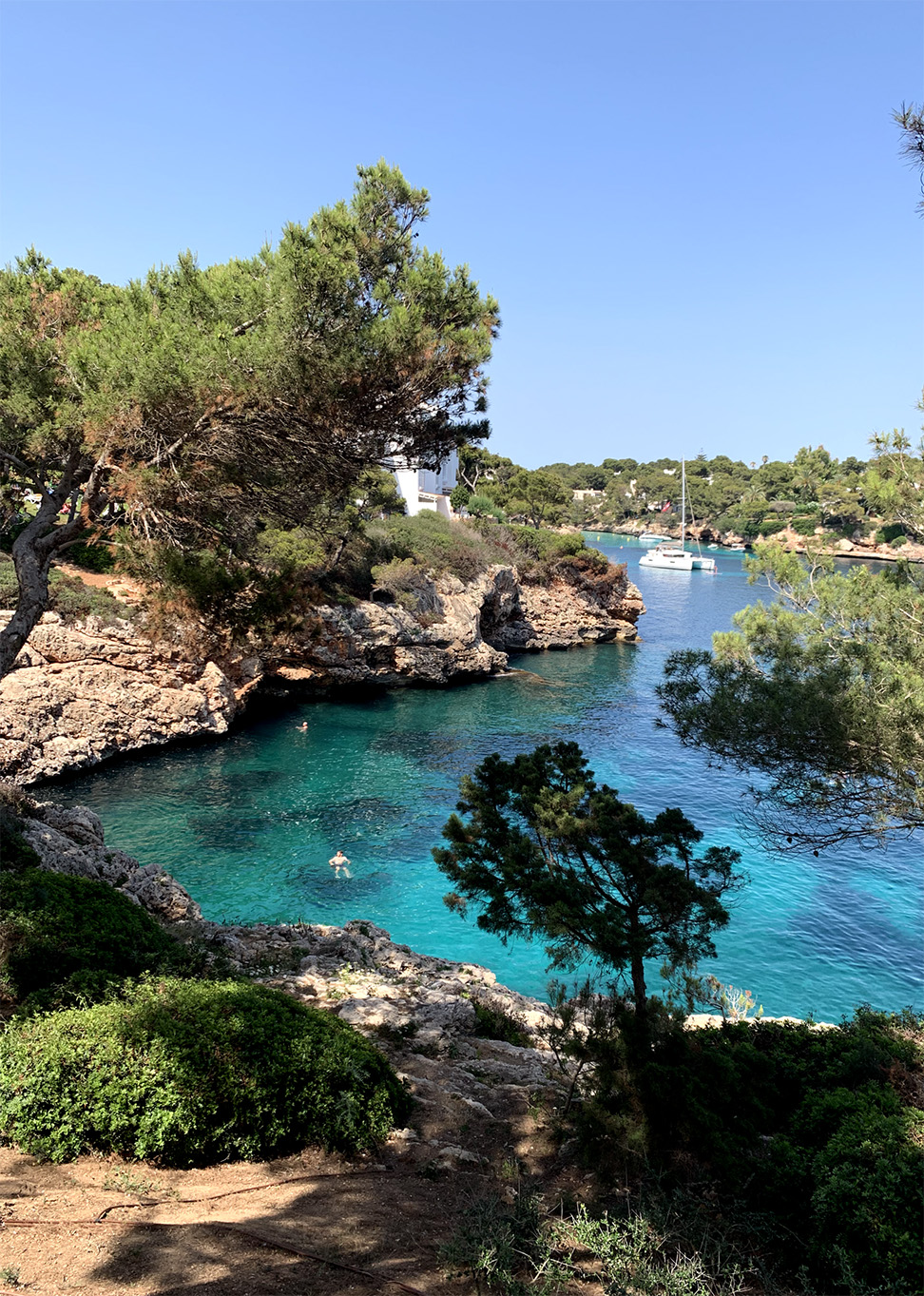 When did your career as an illustrator start?
My professional career started while being in the second grade of the art academy. I started to use a Lino-cut press and went to different shops to see if they would like to sell my prints. When someone from a Dutch magazine bought one of my prints at one of these stores and contacted me, I started to illustrate every week for this magazine. This is where it all started. With the first money I earned I bought a scanner, which I used till last year. But of course, illustrating has been in my life since I was a little kid.

Who are your biggest influences and sources of inspiration?
There are many things that influence and inspire me for illustrations. This could be garden books, cookbooks, movies, going to museums, flowers in my garden, old commercials and LPs, furniture design and patterns in houses. I love seeing other designers getting inspired by nature, like patterns in houses or on tiles with leaves and flowers on it, or natural shapes in furniture. It gives me lots of inspiration to see how others implement nature in their work.
What is your creative process and how does one of your illustrations develop?
The creative process depends on if I illustrate for clients or for my own products. When working for a client I always start with research, sketching and color themes. So the client and I have a very clear vision and concept about the final artwork. When I create an illustration for my own products, I always start without sketching. I love to see how the process evolves. Sometimes this works very well, the creative process makes me very excited and curious, but there are also times that it fails. 
What are the most important or significant projects of your career so far?
In 2013 I got an email by Frankie magazine, one of the most famous illustration magazines. They published my graduation project from the art academy on their cover, which was a big honor. Building my traveling exhibition shed was a lot of fun and illustrating the Dutch post stamps was also something I had also wanted to do. I have been illustrating for many lovely projects and clients, so it's difficult to choose my most important ones. Since 2017 I am creating the Christmas and summer campaigns for the Korean company Shinsegae which I really love to do and traveling to beautiful Mallorca to make illustrations for Inturotel was also unforgettable.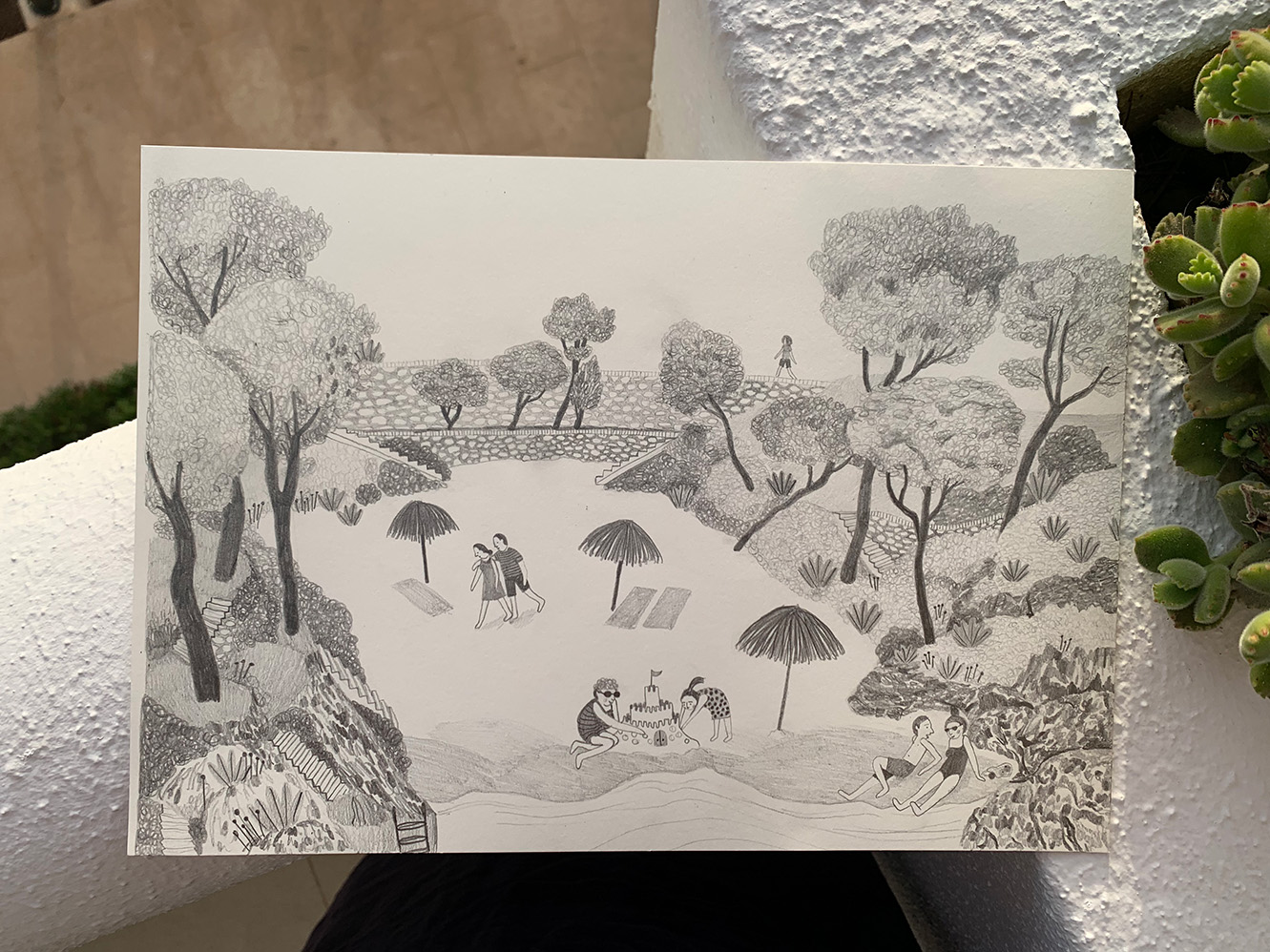 How do you stay motivated and how do you manage creativity and inspiration on tough days?
I love my job and being motivated has never be the problem. Being a freelancer gives me freedom to follow my energy during the day. But being creative especially since being a mom is sometimes difficult and hard. Once a while I take a time off to relax and travel, this always gives me lots of new energy. Like last December and January, we have been traveling to Portugal and Spain in our small campervan for 5 weeks. 

What are your future goals and objectives as an illustrator?
I love painting with oil paint lately and started doing this on large canvas, an exhibition someday would be a goal. But also creating a book, working with nice people on new projects and create more illustrations about traveling.  

What are the challenges and obstacles you have faced in your career and how have you overcome them?
I got many challenges and obstacles on many different fronts. For instance, having a workspace was difficult to find in the city I live in, I always had a space for a few months or maximum 2 years and then had to look further for a new studio. It gave me stress as I had a lot to pack and move, so eventually we managed to build an extension in our backyard, so I finally could settle. A big obstacle is also time, I love to illustrate with my hands, pencils and paper and not so much with the computer. But as a computer is way faster with illustrating, I often have been asqued to create artwork on the computer to save time (and money). I always refused as I didn't like illustrating on a computer and I prefer the hand drawn feeling that it gives the illustration, but it has been difficult sometimes. 

Do you think that the world of illustration is experiencing a golden age, especially in marketing? What opinion do you have about it?
I think it always has been a popular way of expressing creativity and ideas, as the world of illustration is endless. As the computer artwork is quick and popular too, I think people slowly are getting more attracted to the hand drawn illustrations again. As this gives a warm and nostalgic feeling. 
What are your hobbies apart from illustration?
Cooking, baking, working in my garden (and vegetable garden), reading books (also cookbooks), playing with my little son Sef, traveling, especially to places where it's warm and sunny. And for some reason I love to renovate houses, I don't know why, because I have been renovating our house for years and then started to build the extension, and I was always complaining about the hard work… but now we want to start building a shed and the ideas keep on going! So, something inside of me likes to renovate and build...
How was the creative process when working on this project for Inturotel? What inspired you to create this illustration?
This creative process was something completely new, as I could sketch and collect ideas while being in Mallorca, sitting in the sun on the balcony with a beautiful sea view. It gives me so much joy to illustrate my experience and share thoughts with the team of Inturotel. During our meetings we came up with the concept very quick, as the beautiful beach and sea life in this area is so unique. I had the chance to experience this myself during a snorkel trip, which of course gives so much inspiration. The sea life in Mallorca is very extensive and beautiful, but also the beach itself with the turquoise colors is very special, which I tried to combine together in 1 illustration.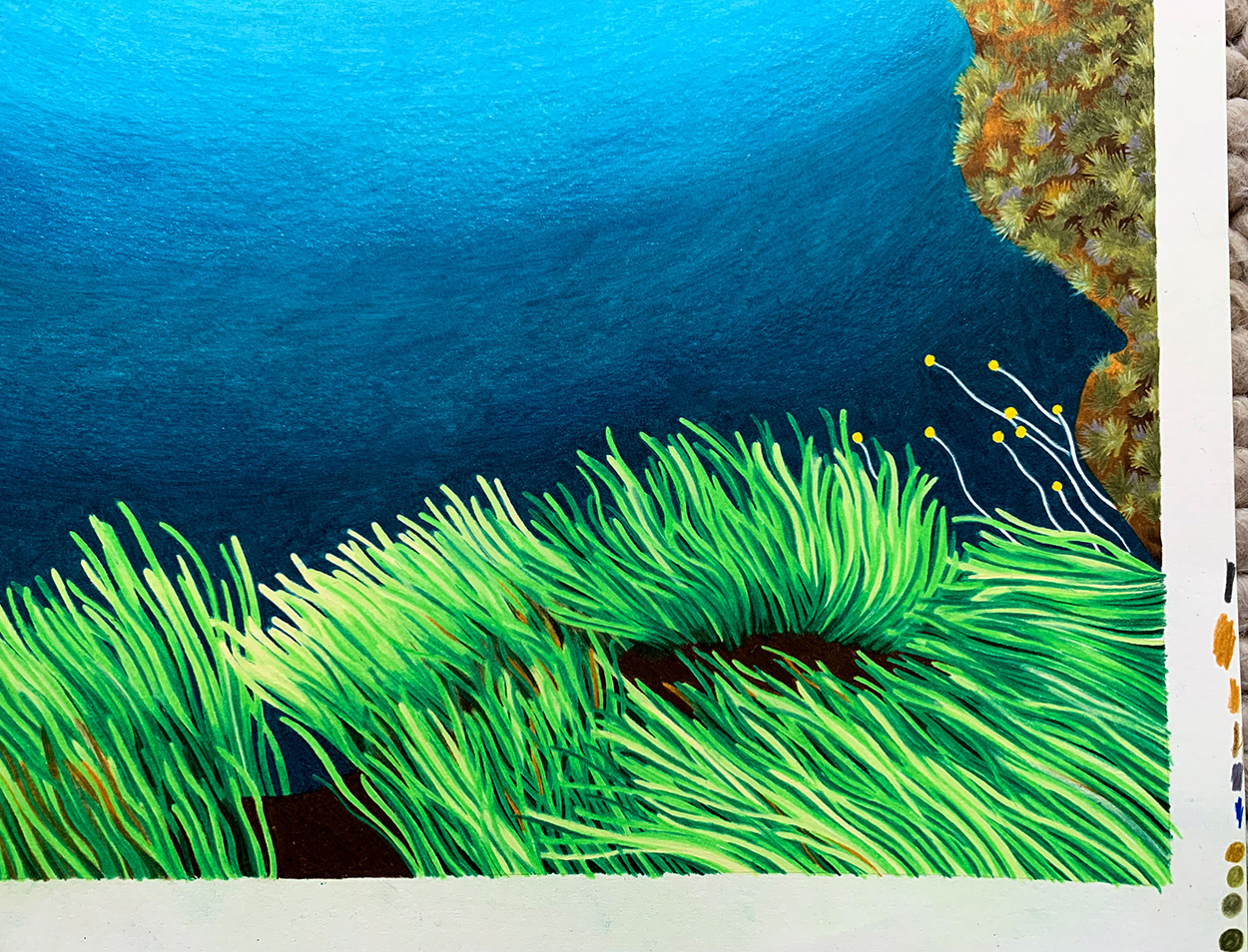 How did you ensure that your illustrations complemented the Inturotel brand and visual identity?
The hotels of Inturotel are very well designed to the area, the pine trees, natural stones in the walls, colorful chairs and tables, natural looks of the parasols and little details. I have tried to use these elements and show this atmosphere in the illustration. For the visual identity I have used the existing logo and brand colors and applied them to the illustration as well. 
If you had to summarize what you liked most about your stay in Mallorca and Cala d'Or, or if Inturotel commissioned you a new illustration with complete freedom of creativity, what elements would be essential?
What I liked most about our stay in Mallorca was definitely the location, the combination of the turquoise sea, rocks, pine trees and beach was beautiful. I loved meeting the Inturotel team, having the inspirational meetings and dive in the ocean afterwards. It was wonderful. But what also has been remarkable was the food in the hotel, it was really good and fresh, with so many delicious options every day. So probably if I would get complete freedom of creativity, I would also show the delicious food they are preparing for their guests. 

Now that you are a small family, what is it like to travel? Has changed? What things do you value most in a hotel when you travel with your family?  
So many things have changed since traveling with a little one, but to be honest, it was much easier than expected. When being in Mallorca our son was 5 months old, so he slept a lot (I think the sea air did him well, I slept like never before!). The hotel was luxurious, we had a kitchen in our apartment which is very practical with a little baby. And the rooms where quiet and silent, we never heard any neighbors. When we arrived, there was a baby bed in the room and lots of snacks, everything was taken care off. I think that's what gives so much relaxation, when you arrive to a hotel and everything is well organized. After this luxurious experience we have been traveling with a campervan, which is a totally different experience. Also nice, but 100 times less relaxing ;-).