Cala d'Or
Active holidays
September 23, 2021
Reading time: 04:13 minutes
Sport & Holidays
If you are one of the lucky ones to enjoy a few days of disconnection in one of our hotels in Cala d'Or, Mallorca, thanks to our inturotel ACTIVE program, our partner MARIMONTE and other collaborating centers, you will always be on the go. Multiple options await you to keep fit, discover new activities and get to know the island from another point of view. Did you know that trying new things is a source of well-being? Even if you are not a born athlete, you will surely find an activity to your liking and level.
Come to Mallorca and enjoy a happy and active holiday with inturotel.

Paddle surf, windsurf, kayak
In our nautical sports center located next to inturotel Cala Azul (managed by our partner Marimonte) you can learn windsurfing or rent a paddle board or kayak and paddle along our wonderful coastline discovering virgin coves, imposing cliffs, caves of great beauty ... Mallorca has excellent conditions to enjoy water sports throughout the year and our center is the ideal place for you to practice or learn any of these sports. Crystal clear waters of a thousand shades of blue and green await you, a radiant sun and a unique landscape in the world. These sports modalities will give you the opportunity to swim, snorkel ... in very special corners and difficult to access from land. We encourage you to try it.
Cycle tourism

No other place in the world has such good and varied conditions for cycling tourism in such a small space as Mallorca, its mild climate, even in winter, makes it a highly demanded destination by professional and amateur cyclists. Numerous routes depart from Cala d'Or to the most spectacular points of the island, such as Sant Salvador (509m), Cap Salines, or the Serra de Tramuntana and its mountains of more than a thousand meters. But for those who wish to travel at a slower pace and discover our closest surroundings, the area offers an attractive and wide network of both road and mountain routes. Visiting charming towns such as Portopetro, S'Alquería, Portocolom, Felanitx…, climbing a summit such as Castell Santueri (400m.) Our collaborator Marimonte will advise and guide you in this adventure. You can reserve your bikes on their website www.marimonte.com They offer a wide selection of high-end bikes in road, mountain and mountain-electric modes, the latter being an ideal option for experienced cyclists' companions.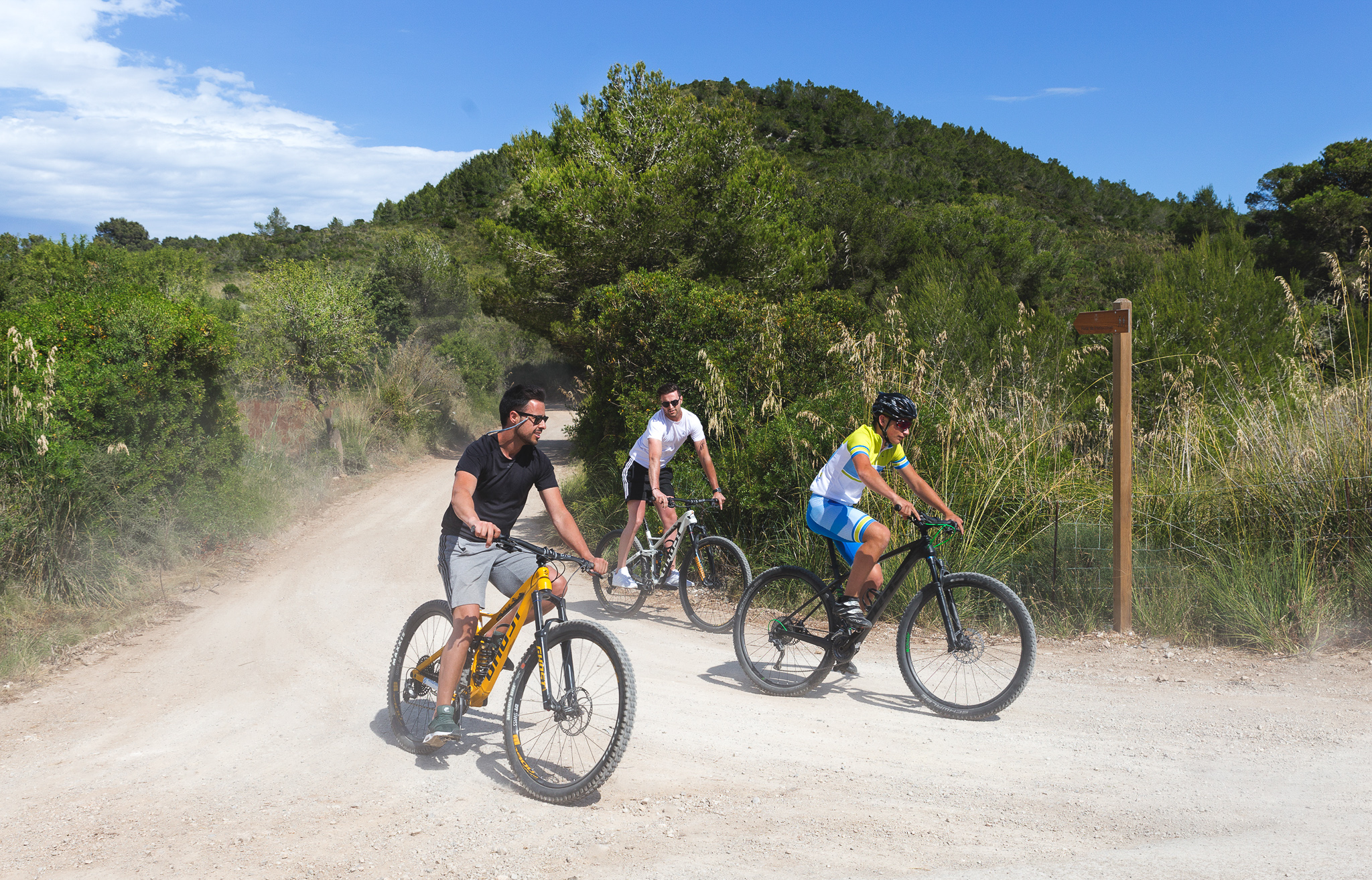 Hiking & Running
Lovers of running and hiking can practice their favorite sport in the middle of nature, multiple routes await you. One could be to get to Cala Sa Nau and if you want to take a bath before returning. Another route could be to get to S'Horta, most of it runs along a dirt road "Can Marines" framed between fields of almond and carob trees. During your practice, nature will present you with bird songs, the sighting of some of the most common, flocks of sheep, ... We recommend that you practice the first hours of the morning or the last hours of the afternoon, when it is most beautiful and the temperature is warmer (especially in summer).
Snorkeling, diving, golf ...
The transparency and warmth of the waters of Mallorca, together with the beauty and richness of its seabed, make them ideal for scuba diving and snorkelling. Mallorca is a paradise for lovers of these sports, we can boast of bathing in the most transparent waters in the world. Did you know that one of the reasons for its transparency is the oceanic posidònia meadows? You can see them often on the shore of virgin beaches. Many call them algae, although they are not, they are PLANTS and carry out photosynthesis, they are very beneficial for the marine ecosystem and help to fix the sand on the beaches. To enjoy this underwater paradise you do not need more than some diving goggles and (if you feel like it) a guide to be able to identify the species you observe ... oblades, hedgehogs, anemones, oceanic posidonia ... you will love it and you will want to repeat it. Our recommendation: in September-October is when the water temperature is highest and the sunlight is magical, diving or snorkeling with that special light is a dream within your reach with inturotel.
During your holidays you can also practice GOLF, just 7 km away the beautiful "VALL D'OR GOLF" course awaits you, with spectacular views of our coast and the Mallorcan countryside. Our clients enjoy special discounts.
We encourage you to try any of these modalities on your next visit to Mallorca, we will be happy to help you with whatever you need.